Friday, 23 July 2010 07:35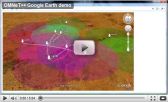 We have created a demo about visualizing a simulation on Google Earth. The demo will be part of OMNeT++ 4.2, and for now there is a separate download so you can try it before 4.2 arrives. We have also recorded a video about it. The demo simulates a wireless mobile ad-hoc network, where cars move about randomly over a 2km-by-2km area. They have identical radios, with a transmission range of about 500m; for simplicity, we assume that the area covered by each radio is a perfect circle. When two modes move within range of each other, they can communicate with each other, forming a (usually disconnected) ad-hoc network. The purpose of the simulation study could be to measure how long it takes to disseminate some piece of information to all nodes of the network. The communication itself is not modeled in this demo. Visualization shows the mobile nodes themselves (a 3D car model), their recent trails, their transmission ranges, and the current connectivity of the network.
New Releases: INET-20100723, R package 0.2
Friday, 23 July 2010 07:33
We are happy to announce a new release of the INET Framework with many improvements to TCP and other components (What's New), and a new version of the package for processing OMNeT++ result files with GNU R. Downloads: INET-20100723, "omnetpp" R package.

PhoenixSim: A Simulator for Photonic Interconnection Networks
Friday, 09 July 2010 11:53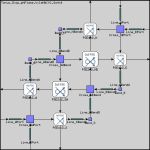 PhoenixSim is an OMNeT++-based simulation environment being developed by the Lightwave Research Laboratory at Columbia University in the City of New York for designing and analyzing the performance of photonic interconnection networks. PhoenixSim enables detailed studies of electronic networks, photonic networks, and hybrid networks (ones that leverage a combination of both technology domains). The simulator is highly extensible and is currently being used within the Lightwave Research Laboratory on projects for the design of on- and off-chip photonic communications for multi-processor systems, and the design of nanophotonic optical broadband switches (NOBS).
Currently, the simulator supports the ability to model and characterize many important properties of photonic interconnection networks including propagation delay, insertion loss, extinction ratio, spectral resonant profiles, area occupation, and energy dissipation. Moreover, future extensions will support the modeling of thermal variations, optical nonlinearities, as well as three-dimensional integration. In the realm of electronics, the simulator includes a router model that can be used to model advanced electronic networks and hybrid networks.
Home page (more info, download, manual, publications): http://lightwave.ee.columbia.edu/?s=research&p=phoenixsim

Thursday, 08 July 2010 21:34
The MiXiM team is happy to announce the release of MiXiM 1.2 that uses OMNeT++ 4.1. MiXiM is an OMNeT++ modeling framework created for mobile and fixed wireless networks (wireless sensor networks, body area networks, ad-hoc networks, vehicular networks, etc.). It offers detailed models of radio wave propagation, interference estimation, radio transceiver power consumption and wireless MAC protocols.

The new release contains the IEEE 802.15.4 models developed by Jérôme Rousselot; IDE wizards to create basic MiXiM networks and your own analogue models; extensive documentation update and additions; and many bug fixes and enhancements. An overview of the most important changes is given after the Read more link. Developers should pay special attention to some API changes outlined below! For a complete list of changes, please consult the git log messages. The new MiXiM release can be downloaded from the project's site at SourceForge:

http://sourceforge.net/projects/mixim/files/mixim/MiXiM%201.2

Read more...
Network Simulation Book Featuring OMNeT++
Monday, 05 July 2010 19:49
"Modeling and Tools for Network Simulation" (Klaus Wehrle, Mesut Günes, James Gross [Editors], Springer, 2010) is a book that focuses on tools, modeling principles and state-of-the art models for discrete-event based network simulations. The focus of the "tools" part is on two distinct simulations engines: OMNeT++ and ns-3, where the OMNeT++ chapter presents a high-level overview and rationale of the concepts, techniques and tools present in that simulation environment. The book also deals with issues like parallelization, software integration and hardware simulations. In the "modeling" part of the book, the wireless section covers all essential modeling principles for dealing with physical layer, link layer and wireless channel behavior, and presents detailed models for IEEE 802.11, IEEE 802.16 and other systems. Further chapters cover classical modeling approaches for higher layers (network layer, transport layer and application layer) and modeling approaches for peer-to-peer networks and topologies of networks.

See the book's page at RWTH Aachen or at Springer (with table of contents), or buy it from Amazon. (Note that the book's length is misprinted on those sites -- it's actually 500+ pages not 256.)

Monday, 05 July 2010 10:27
We have uploaded a few tutorial videos to YouTube to help you make better use of OMNeT++. The first ones show how you can use event log recording and the Sequence Chart tool to explore message exchanges in various protocols, from 802.11 to TCP and more. This can be quite useful when studying, debugging or verifying simulation models.

More videos to come, stand by!

Project Announcement: R package for OMNeT++
Tuesday, 29 June 2010 18:31
This is to announce a project to develop a GNU R package for the loading, processing and plotting of the contents of OMNeT++ output vector and scalar files. R is a powerful language and software environment for statistical analysis and graphics, and it is already being used by many in the OMNeT++ community despite the fact that there has been no straightforward way to read result files into R until now. We hope that this package can fill the gap, and will become a common base for result analysis scripts.

The "omnetpp" package is built upon the scavetool's C++ library, with additional R code. A first, incomplete but already useful version is available for download, and an introductory tutorial has been written for it. We are looking for feedback as well as potential contributors. See the original announcement on the mailing list here.

Repository: http://github.com/omnetpp/omnetpp-resultfiles
Download: http://github.com/omnetpp/omnetpp-resultfiles/downloads
Tutorial: http://wiki.github.com/omnetpp/omnetpp-resultfiles/omnetpp-r-package-tutorial


Monday, 14 June 2010 00:00
Dear everybody, we're happy to announce the release of OMNeT++ 4.1. Please read the ChangeLog (below) to see what has changed since the 4.0 version and check the
Visual ChangeLog
to see the changes in the IDE.
Download it now
.
Read more...
Monday, 31 May 2010 00:00
Dear everybody, we've just released the second (and hopefully last) release candidate of OMNeT++ 4.1. Please read the ChangeLog carefully to see what has changed since the 4.0 version or check the visual
change log
to see the changes in the IDE.
Download and try it now
.
Read more...
Wednesday, 19 May 2010 00:00
Dear users, we've just released the first release candidate of OMNeT++ 4.1. Please read the ChangeLog carefully to see what has changed since the 4.0 version or check the visual change log to see the changes in the IDE. Download and try it now.
Read more...
« StartPrev12345

6

78910NextEnd »
Page 6 of 27